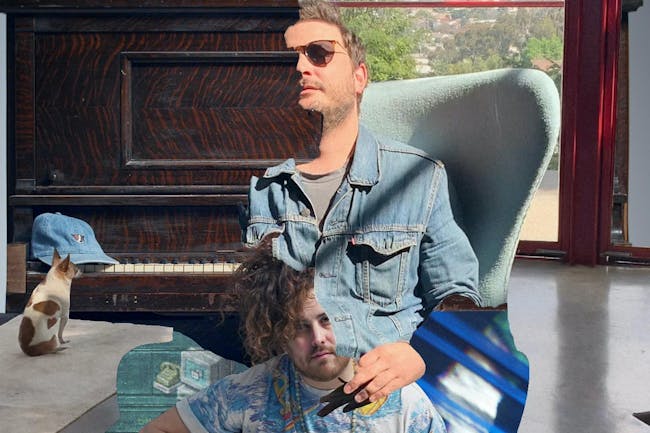 This event has been cancelled. Check your email for refund information.*
The dynamic Detroit duo JR JR (fka Dale Earnhardt Jr Jr) arrive in 2020 with the highly experiential and intimate 'Getting to Know You' Tour, a completely unique event that might best be described as "a two-man / one-man show."
Each night, Josh Epstein and Daniel Zott will break the barrier between performer and audience for a never-before-seen-look into the last 10 years of the band, including songs from their 2019 double LP Invocations/Conversations and their forthcoming EP August and Everything Prior (releasing May 2020).
The show is intended to bring JR JR closer to their audience, while allowing fans an insider look into the artist.
Expect the unexpected.

Josh Epstein and Daniel Zott formed JR JR (known then as Dale Earnhardt Jr Jr) in Detroit, Michigan in 2009. Prior to pairing up, the twosome had been searching for a creatively fluid situation where they could pool their talents as songwriters, singers, multi-instrumentalists, and producers. Since joining forces, the pair has released 4 albums, 5 EPs, and several standalone singles. Select career highlights include a number of memorable appearances on KCRW's "Morning Becomes Eclectic," Conan, and The Late Late Show with James Cordon; performances at major festivals like Bonnarroo, Austin City Limits, and Lollapallooza; and critical acclaim from a wide variety of outlets such as Stereogum, Rolling Stone, Paste, SPIN, and New York Magazine.

JR JR's music has been featured in many films, television shows, and commercials, soundtracking culture for over a decade, and attracting new fans along the way. This includes campaigns for elite brands such as Chase, Microsoft, YouTube, Guess?, Major League Baseball, and Acura, and in-scene placements in 13 Reasons Why, Togetherness, Atypical, Sausage Party, Bad Moms, and I Am Cait. Their ubiquity in pop culture even saw them stepping outside their typical roles as musicians to act in Arrested Development and Comedy Central's Detroiters, and pen their own monthly column for ESPN.com.

JR JR's latest effort August and Everything Prior is a salute to its roots. The EP was written entirely by Epstein and Zott. It's a thoughtful but danceable offering that harkens back to the band's early releases. Zott details: "It's also a revival in my own head of our love of acoustic songs mixed with elements of 1990s hip-hop. The EP grooves but it also points to our folk roots."

August and Everything Prior highlights JR JR entering a more prolific era where they can freely distribute music in a myriad of ways through their own label. Zott says: "With the speed of our output, we can be more in-the-moment and release music quickly as culture shifts." Epstein adds: "It's been amazing for us to be so self-contained and enjoy so much career and creative freedom. Being able to thrive right now feels like a modern miracle."

Venue Information:
U Street Music Hall
1115 U Street NW
Washington, DC, 20009